Business development includes many objective keys, including employee development. It is one of the vital keys of the company and creates a win-win situation for both the employer and the employees. Frontiir invests in our staff's professional development because our people are our most important assets.
Most of our employees seek training and want to develop professionally for success in their roles. Our organization actively supports training and education sponsorship programs to improve employees' skills while working on the company's future business development.
Frontiir has education sponsorship programs for all outstanding employees, building both our people and our company in the process. Any employee with at least six months' service can apply to local and overseas education sponsorship programs. Employees need to have two TRAC awards in one year (or) TRAC award and an outstanding standard based on their last performance review.
Local training can be applied to with approval of relevant managers and E-Staff. All local education program fees will be covered by the company. Foreign training requires approval from relevant E-Staff and our CEO. Frontiir will cover 50% of foreign training fees with the remaining 50% of the cost deducted from the employee's salary.
Frontiir always emphasizes care for our employees. Our company uses its own resources to grow the company. This includes internal and external professional training for polishing our employees' skills. Any employee can join their relevant training, depending on their level, from basic employees to those in management. Training programs provide support depending on each person's requirements, ensuring employees are satisfied and motivated.
Our company recognizes grade 1 to 12 employee positions from basic to management level employees. The Frontiir advantage is that we have internal job vacancies and every employee has a chance to join their department of interest with a high level. All they require is to do their job well and work hard to pass their required training. This is our unique internal development plan. Training programs are investing in our most important asset: our people.
We have many training programs within a year for our employees. Every training course has unique advantages and goals specific for employees of differing segments of the organization, such as labour groups, installation groups, engineers, technicians and management. Frontiir fully sponsors all internal training, motivating employees towards continual growth and development.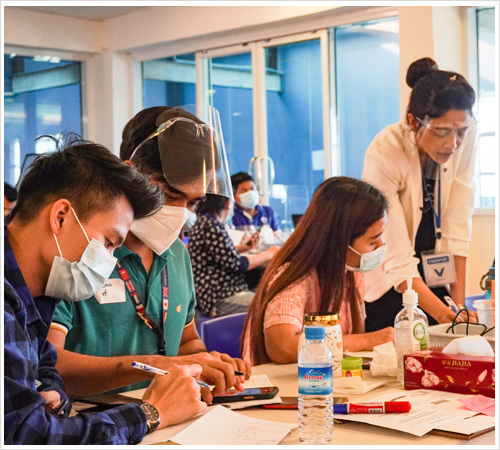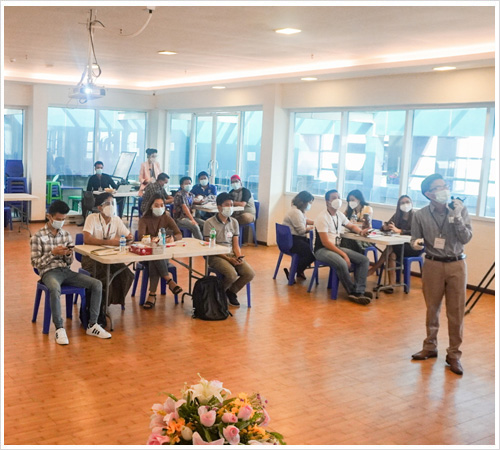 Our Training
Frontiir's trainings are focused on technology, business, safety, leadership and management. English language training programs are also provided. Trainings include: Leading and Deciding, Cable Management & Cabling in DC, NAT and CGN, Data Center Planning, Implementation and Design, Metro and ABR OSPE Knowledge Sharing, IGW Transit, Peering and BGP Part 1 to Part 4, MPLS and VPLS, Understanding Core Planning, Basic OH Fiber Cabling, Splicer Maintenance, GPON Fundamental, Outdoor Wireless PTP/ PEMP Backhaul (24G,5G) Training, Checking and Troubleshooting Fiber, SBS Network Deployment, Basic Electronics, Radio Frequency, CS ERP Ticket CS Process Level 1, NAT an CGN, Linux Starter Course, SBS Network and Deciding, FTTH Design and Infrastructure Troubleshooting, Store Operation Management and English Language. As safety is a concern in every part of the organization, Frontiir extends safety training to all personnel.
We make basic electronic training (M&E Training Level I) for grade 2 and 3 employees. Training aims to tackle essential knowledge about electrical power and electronics components to avoid electric shock and protect oneself from electrical hazards. Training offers basic knowledge of electronic components and devices as well as grounding (earthing) and electric safety. Participants are able to understand more about electronics and have greater knowledge about the importance of building earthing and electrical safety to apply to both their personal and professional life.
English language training is the only external training for our company. English is an essential skill of the international business world, so our company supports improving English language skills from basic to advanced for all employees.
Frontiir's global expert technicians give many internal technical trainings. The trainers are dedicated to familiarizing trainees with essential skill, procedures, and technology, applying their global standard technical knowledge and experience to the benefit and growth of young employees. Training embraces group workshops such as brainstorming, negotiation, and participation for a variety of professional development.
Co-Founder, Executive Chairman and CEO of Frontiir Dr. Godfrey Tan (Wai Lin Tun) gives "Leading and Deciding" training for grade 7 and management level employees. Through his training, he shares his business knowledge, key qualities of an effective leader, problem management, people management, results orientation and rewards system, conflict resolution and self-improvement learning and attitude. Our CEO has developed a guiding business and leadership management towards taking care to all employees and empowering them to bring their best to Frontiir.